Article
Email Address:
Password:
Forgot Password?
College Hoops: Best Big 10 Teams
Back to Article Listing
Jim Feist - 2/16/2016 3:46 PM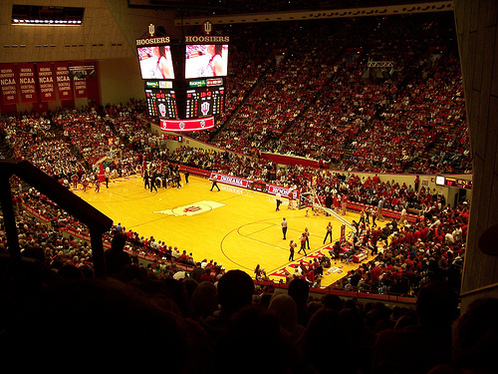 by Jim Feist

A Big 10 representative hasn't won college basketball 's national championship since 2000 (Michigan State), but Indiana got to the title game in 2002, as did Illinois (2005), Ohio State (2007), Michigan State (2009) and Michigan (2013), so they've been knocking on the door. Here's a look at some of the best of the Big 10 with the March tournaments on the horizon.

Iowa: The Hawkeyes passed their toughest tests earlier in the year, sweeping Michigan State, crushing Wichita and winning at Purdue (70-63) as a +9 dog. This team is so tough to defend, with height under the glass in 7-1 senior center Adam Woodbury and senior forward 6-9 Jarrod Uthoff (18.6 ppg, 6.2 rpg).
If opponents double down low Iowa has loads of three-point options in seniors Mike Gesell (8.8 ppg, 6.9 apg) and Anthony Clemmons (8.6 ppg; 3.9 apg), along with 6-6 Peter Jok. They lead the Big 10 in scoring. Four starters returned from last season so they were supposed to be good - and have been better. With an easy schedule down the stretch, they have a great shot to capture the regular season Big 10 title.

Maryland: The Terrapins have been a force all season, with a win at UConn and a close loss to North Carolina (89-81). The Maryland offense revolves around a one-two punch of
6-2 sophomore Melo Trimble (14.5 ppg) and 6-9 junior Robert Carter, though four players average in double figures.
6-11 freshman Diamond Stone (12.8 ppg) has made an already talented team better. They have been on an impressive 12-4 ATS run in Big 10 play, as well as 8-3 ATS on the road. But what to make of that late season slump? They lost at Michigan as a favorite, and got thumped by Michigan State (74-65). The rematch with Michigan comes this weekend...at home.

Indiana: The Hoosiers like to run behind senior guard Yogi (don't call me Berra) Ferrell (17 ppg) and 6-7 junior Troy Williams (13 ppg). Their three-point shooting defense is outstanding, as well as being the top defensive rebounding team in the Big 10. It's a deep squad with four players averaging in double figures in scoring, including 6-10 freshman Thomas Bryant (12 ppg, 5.5 rpg). They have been impressive as a dog, winning at Michigan (80-67) and topping Notre Dame (80-73). The schedule is tough these next two weeks, with showdowns against Purdue, Iowa and Maryland.

Michigan State: You need frontcourt muscle in the Big 10 and the Spartans have it with 6-10 freshman Deyonta Davis (8 ppg) and 6-9 Matt Costello, while 6-5 senior Denzel Valentine (18 ppg, 7.8 rpg) does it all, leading the Spartans with over 6 assists per contest. Davis set the school's single-game freshman record with six blocks in a 76-45 win against Northwestern.
They play tough defense for Coach Tom Izzo, topping Maryland (74-65), Kansas (79-73) and Louisville (71-67). They are the type of well coached, physical defense you don't want to face in March.

Purdue: The Boilermakers have a big frontcourt behind 7-foot senior A.J. Hammons (14 ppg, 8 rpg), 6-9 freshman Caleb Swanigan (9 ppg, 9 rpg) and 6-7 sophomore Vince Edwards. They started 11-0 with wins over Florida (85-70) and at Pitt (72-59) before getting upended by Butler (74-68). Purdue hasn't been tested much and lost twice to Iowa. The defense and free throw shooting, however, have been near the bottom of the Big 10 all season, and you need both when tournament play commences.

Michigan: The Wolverines have been a force all season, tops in the Big 10 in field goal and free throw shooting. They've been able to stay afloat despite the loss of star Carl Levert (17.6 pp) in December. Picking up the slack has been the trio of 6-8 sophomore Duncan Robinson (12 ppg), 6-6 junior Zak Irvin (10 ppg) and senior guard Derrick Walton Jr (11.7 ppg), the latter a strong rebounder and playmaker.
They had a rough stretch playing four teams ranked in the Top 20 and lost three of them, all by 9 or more points. One weakness: Michigan is at the bottom of the Big 10 in field goal shooting defense.


Back to Article Listing